Description
Experience the Dependable Netgear Nighthawk LAX20 LTE Plans
Enhance your home internet possibilities with the power of 4G LTE. Equipped with cutting-edge WiFi 6 technology, this router delivers lightning-fast speeds of up to 1.8Gbps, ensuring seamless connections, rapid streaming, and accelerated downloads for modern mobile devices. Seamlessly transition to 4G LTE as a flexible internet alternative whenever your current service experiences interruptions or becomes unavailable.
4x More Devices and Fast Simultaneous Streaming
Experience superior performance and unwavering reliability with LAX20. With its 4 WiFi streams, this router empowers your smart home with the capacity to connect up to 4X more devices, ensuring uninterrupted entertainment such as movies, gaming, and video calls on multiple devices simultaneously. Enjoy a seamless and immersive experience across all your devices with LAX20's exceptional capabilities.
State of the art WiFi 6
Unleash lightning-fast WiFi speeds of up to 1.8Gbps, enabling downloads, streaming, and transfers that are 1.5 times faster than ever before. Experience unparalleled speed and efficiency with this cutting-edge technology.
Always-On Internet
Ensure reliable backup internet connectivity by simply inserting your provider's Nano SIM card into LAX20. Experience seamless automatic switching to 4G LTE whenever your primary internet service encounters disruptions, ensuring uninterrupted internet access at all times.
Essential Internet Security
Safeguard your family's WiFi and enjoy automatic security protection for all your connected devices with a complimentary 30-day trial. Experience peace of mind knowing that your online activities are shielded and secured during this trial period.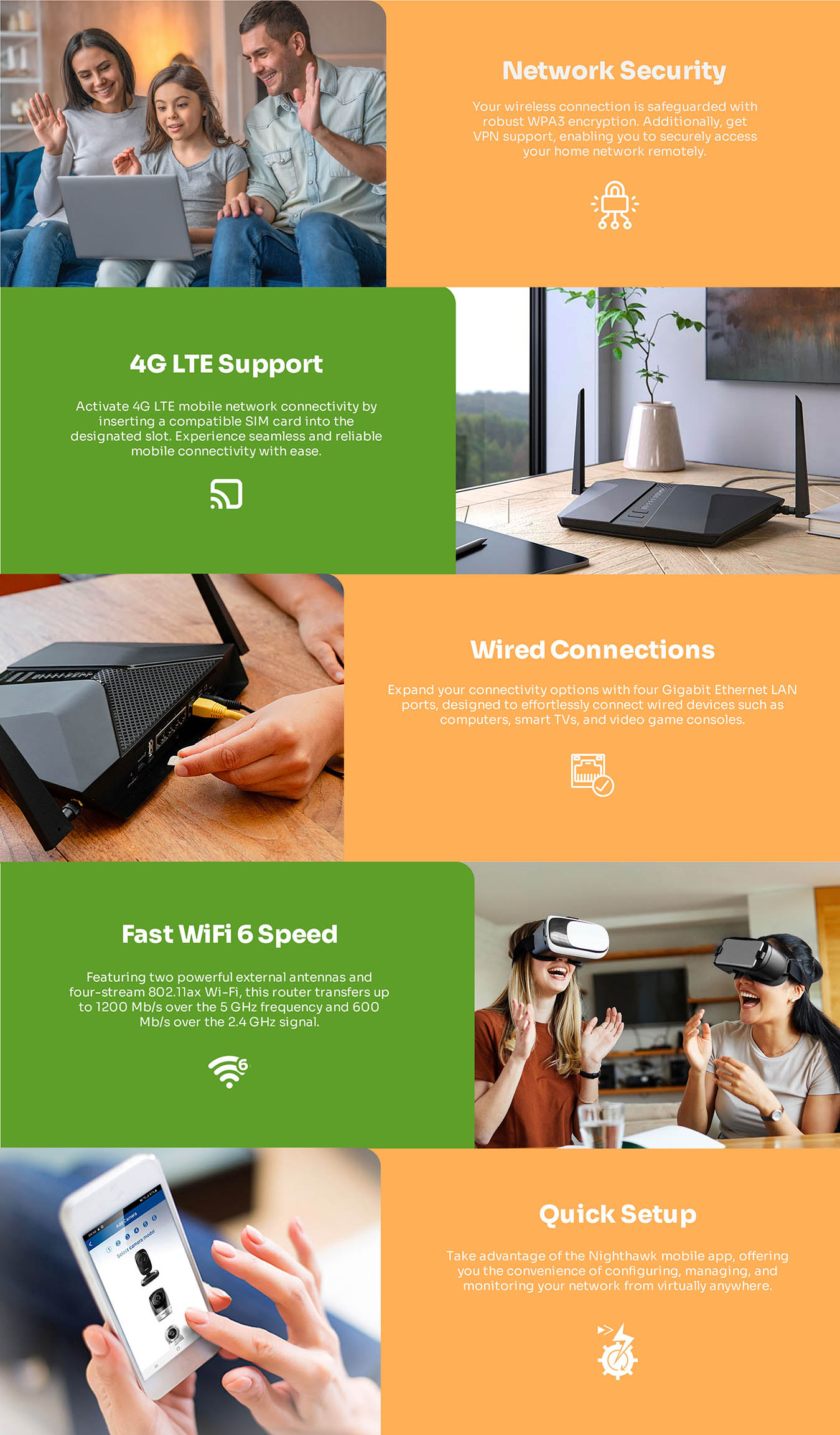 TECHNOLOGY/BANDS

Max 300 Mbps download speeds, and 50 Mbps upload speeds.
LTE CAT 6, 4-band CA, and 4×4 MIMO.
Up to 4X Carrier Aggregation and support for LAA in future firmware upgrades.
LTE/4G Bands: 2, 4, 5, 7, 12, 13, 25, 26, 29, 30, 66.
3G Bands: 2, 4, 5.
IPV6 Support

EXTERNAL PORTS

Ethernet port
USB-C port
Dual TS-9 external 3G/4G antenna connectors

CHIPSET

Powerful 1.5 GHz Quad-Core processor

POWER TYPE

This is a stationary device that uses an AC power adapter.

WIFI

Super fast WIFI 6, with up to 4X more capacity than AC WiFi
Full Dual-Band/Dual-Concurrent WiFi.
WiFi 6 (802.11ax) Dual Band WiFi (AX1800); 2.4G: 600Mbps, 40/20 MHz 1024/256 QAM; 5G: 1200Mbps, 80/40/20 MHz 1024 QAM.
Backward compatible with 802.11a/b/g/n/ac WiFi

Max Theoretical Downlink Speed

Data Usage Meter

Manage your data and how much you use

Ethernet Ports