Description
Connect With Moxee Mobile Hotspot Plans​
We designed these Moxee Wifi Hotspot plans for people on the go as well as those seeking a dependable wireless internet connection. Working remotely or living mobile in an RV, with the Moxee Mobile Hotspot staying connected won't be an issue. As always at Town Broadband there are no contracts or credit checks when you sign up for any of our high-speed mobile internet data plans.
The Moxee Mobile Hotspot 4G LTE router is a powerhouse in a small, neat gadget. Supported by America's largest mobile carriers, and capable of keeping you connected wirelessly – whether for work or just keeping up with friends and family.
Working from home, which is not new, but has now become the "new norm". As technology is advancing and more companies are allowing people to work from home, this has many positives as it significantly reduces travelling time and its associated costs. Additionally, with so many people now working from home, this has also improved on family bonding – even with family and friends who are not living nearby. We can now use "Facetime" or other video calling apps to keep us in touch with our loved ones.
High speeds – with download speeds of up to 150 Mbps, there is no wasting of time streaming or waiting for that video or movie to download just as the suspense was about to unfold or the action was about to happen in that movie you're watching, or you missed seeing the score in that crucial game!! Yes, it can be frustrating, but Town Broadband is here to resolve all these issues with our affordable Moxee mobile hotspot plans.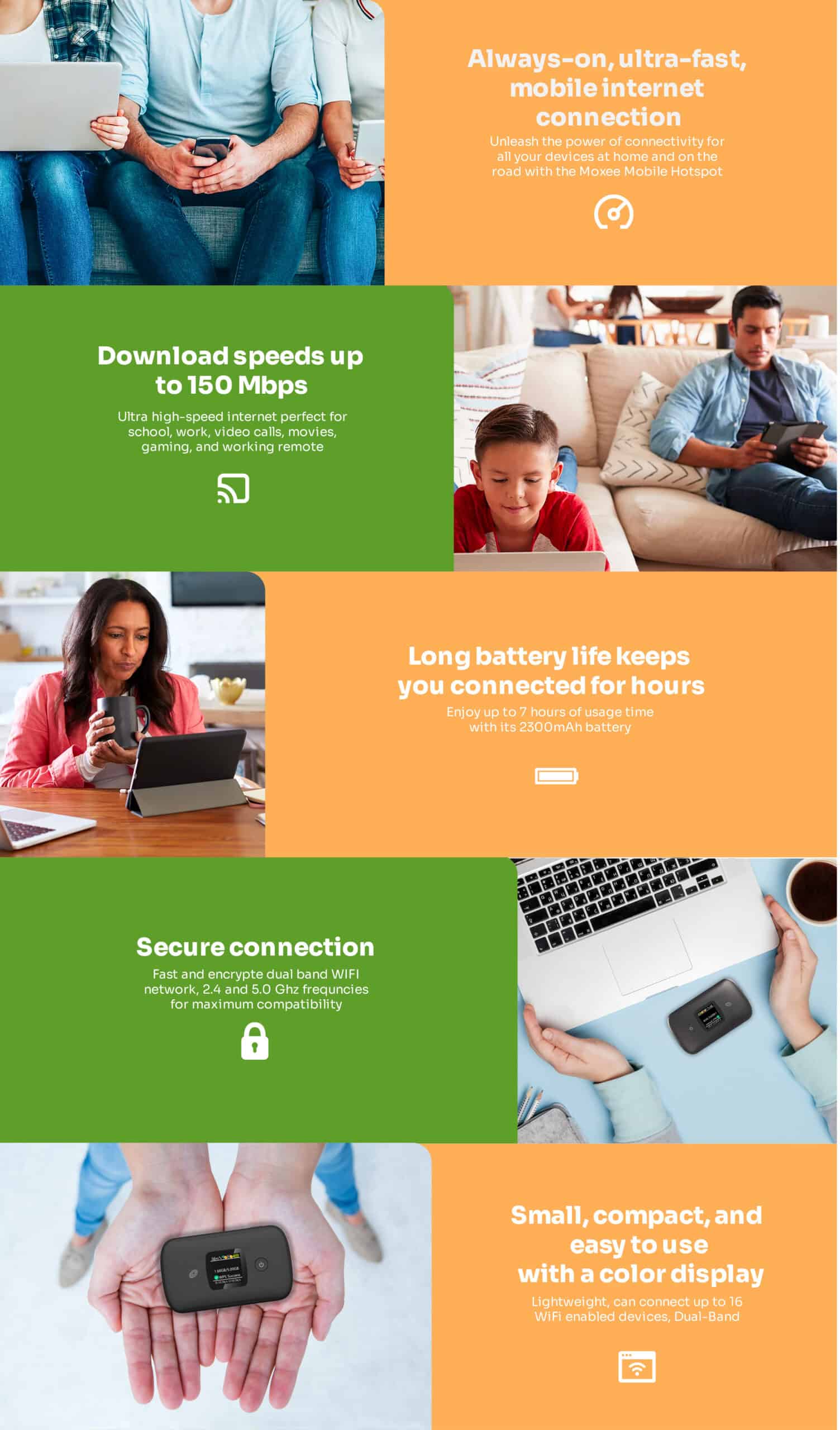 TECHNOLOGY/BANDS

BATTERY

CHIPSET

WIFI

4G LTE Bands 2, 4, 5, 12, 41, 66
802.11a/b/g/n/ac
2.4GHz & 5.0GHz

EXTERNAL DISPLAY