Description
Enjoy the Reliability of Netgear Nighthawk M1 Plans
Review our Netgear Nighthawk M1 4G LTE WIFI Hotspot Plans, for model MR1100. This Category 16 wireless mobile router is one of the fastest devices on the market today.
It is capable of connecting up to 20 devices at one time with fast upload speeds of up to 150 Mbps and download speeds of up to 1Gbps so you are assured that there is no downtime for streaming TV or movies, conducting online meetings or schooling, working from home, just keep up with friends and family anywhere in the world or if you are vacationing and touring in your RV enjoying the quiet outdoors or the hustle and bustle of city life. It's all up to you and what you want to do – the Netgear Nighthawk M1 MR1100 will be constantly keeping you connected!
It also supports small home-base businesses as well as personal needs together whether you are connecting via WiFi or better yet, USB Tethering, which carries a lot of advantages such as not reducing your battery life, connectivity to other devices such as laptops, etc.  Actually, the battery of this powerhouse is capable of giving you up to 11 hours of usage and besides USB, it also facilitates Ethernet and micro SD card!!
The Netgear Nighthawk M1 is a great choice for persons who do not require 5G services but still enjoy the benefits of wireless mobility backed by 2 of the country's largest network providers which has a stable and reliable infrastructure, fast internet speeds, lots of features, all-time dependability, great 24/7 Customer Support all packaged in a reasonably low monthly rate.  
Sign up today for our Netgear Nighthawk M1 4G LTE WIFI Hotspot Plans​ and see why consumers are enjoying the Nighthawk M1 MR1100 for yourself.  This is quite a deal you shouldn't miss!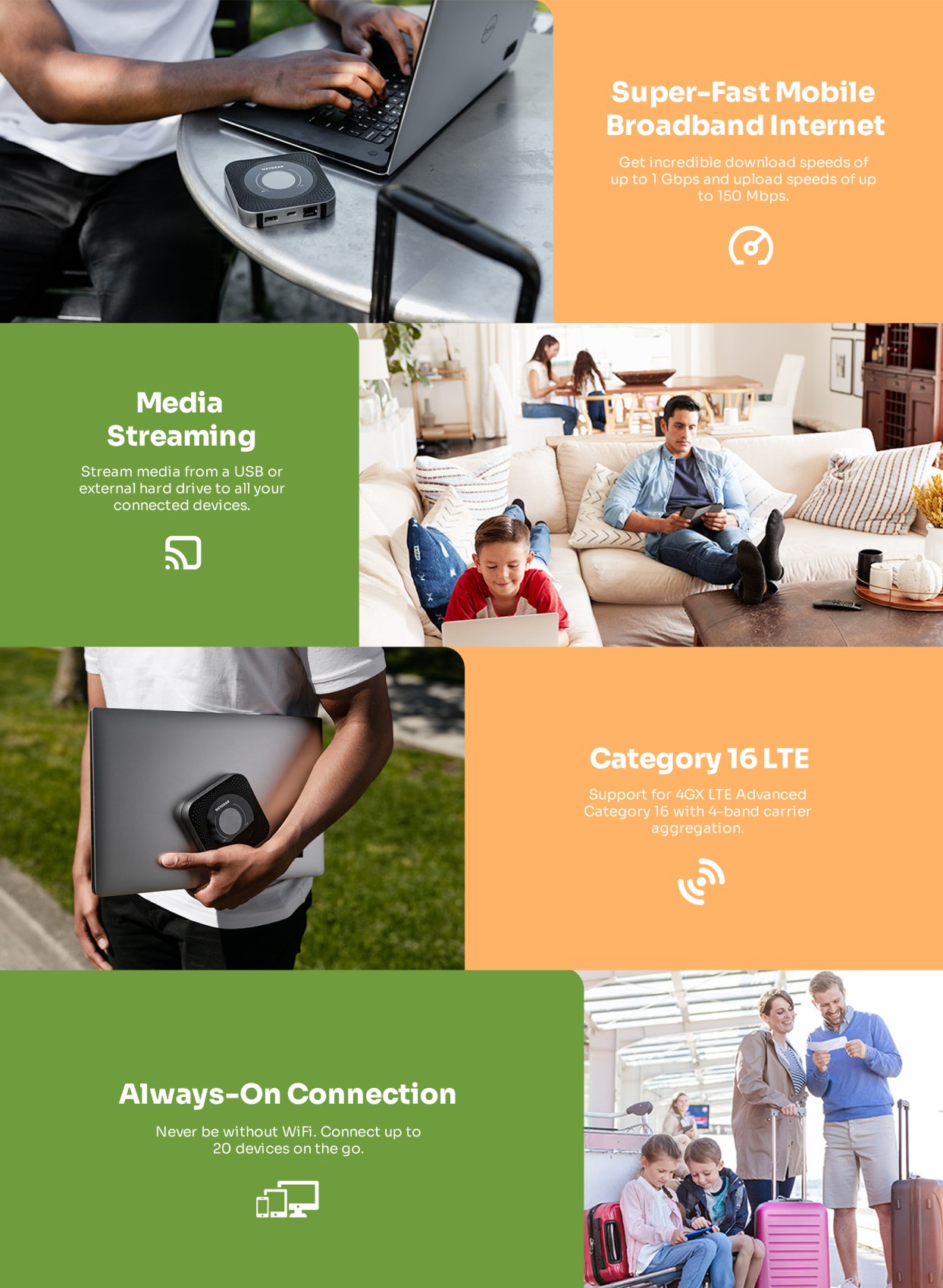 TECHNOLOGY/BANDS

Max 1 Gbps download speeds, and 150 Mbps upload speeds.
LTE CAT 16, 4-band CA and 4×4 MIMO.
Up to 4X Carrier Aggregation and support for LAA in future firmware upgrades.
LTE/4G Bands: 1, 2, 3, 4, 5, 7, 12, 14, 29, 30, 66.
3G Bands: 1 ,2, 5.
IPV6 Support

EXTERNAL PORTS

Ethernet port
USB-C port
Dual TS-9 external 3G/4G antenna connectors

CHIPSET

BATTERY

All day & night – 5040mAh battery for all day use

WIFI

Full Dual-Band/Dual-Concurrent WiFi.
WiFi 802.11 b/g/n 2.4 GHz. WiFi 802.11 a/n/ac 5 GHz

Max Theoretical Downlink Speed

Data Usage Meter

Manage your data and how much you use

Media

microSD with Media Server/. NAS capabilities